Dots' full wallet management solution allows us to manage complex money flows between multiple parties. Their one click payments and payouts integration works great and offers us the flexibility and control over funds just like an in house solution. Our users can pay and get paid in the way they want. Implementing Dots even allowed our product to grow over 100% month over month!

Jack Li, Zappy Founder
Organizing video game tournaments online requires many features (anti-cheat, roster management), but the most important is handling the entry fees and payouts for all the entrants. Collecting and paying out hundreds of users for one tournament was a nightmare for tournament hosts - and so Zappy was born. Zappy allows a tournament host to set up a website for their tournament, easily collect entry fees, and manually payout the winners.

While Zappy made tournament hosts' lives easier, it wasn't perfect. Payouts were still manual and money won in one tournament couldn't be used to re-enter the next. Thus, Dots' eSports payouts solution presented an ideal solution.
💡
Zappy's Favorite Features:
- Fully integrated and white-labelled wallet API
- Instant payouts to Venmo, Paypal, Cash App
Dots was very easy to integrate. We jumped on an onboarding call and were able to integrate the flow within days.
A Feature-Rich Wallet Solution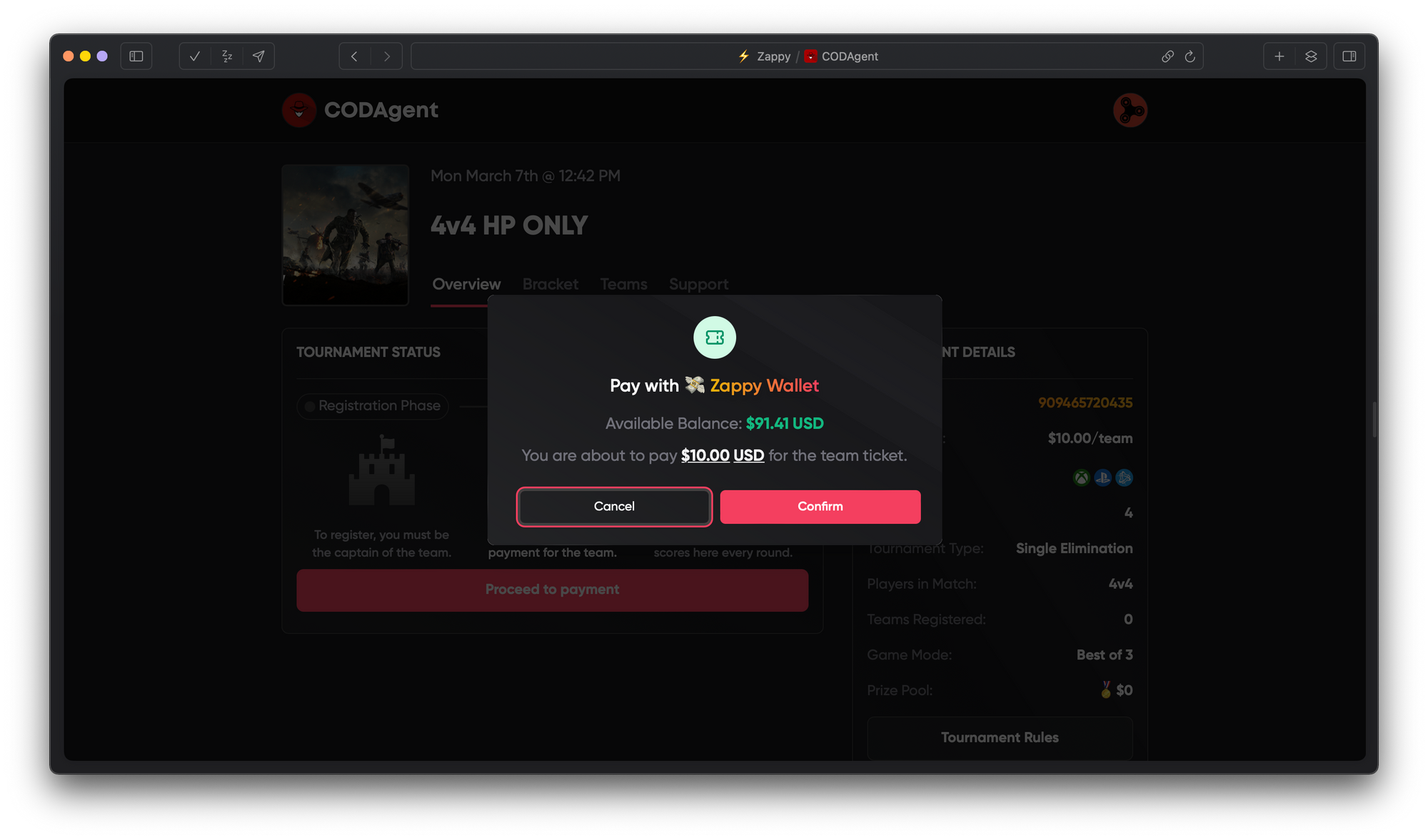 Dots allows Zappy to integrate a digital wallet and ledger directly into its platform. Users were now able to refill money into their wallet through ACH, Credit Card and PayPal. They can then use the funds to buy entries into tournaments, and if they win, receive funds into their wallet. Dots' API gives Zappy the ability to move the funds around between their users to easily split up the winnings between a team. This ease of money movement also lets Zappy take 5% of all tournament entries with a single API call.
The Dots wallet system powers the core of our money movement logic. It allows us to move funds easily between different parties at Zappy without additional fees and as easily as making an API call. It offers the same amount of flexibility and control to us as if we built it ourselves. It's as if we have our own Venmo styled wallet system. I think it would be essential for every marketplace or platform to have a wallet system like this to power their transactions.
Multi-channel Payouts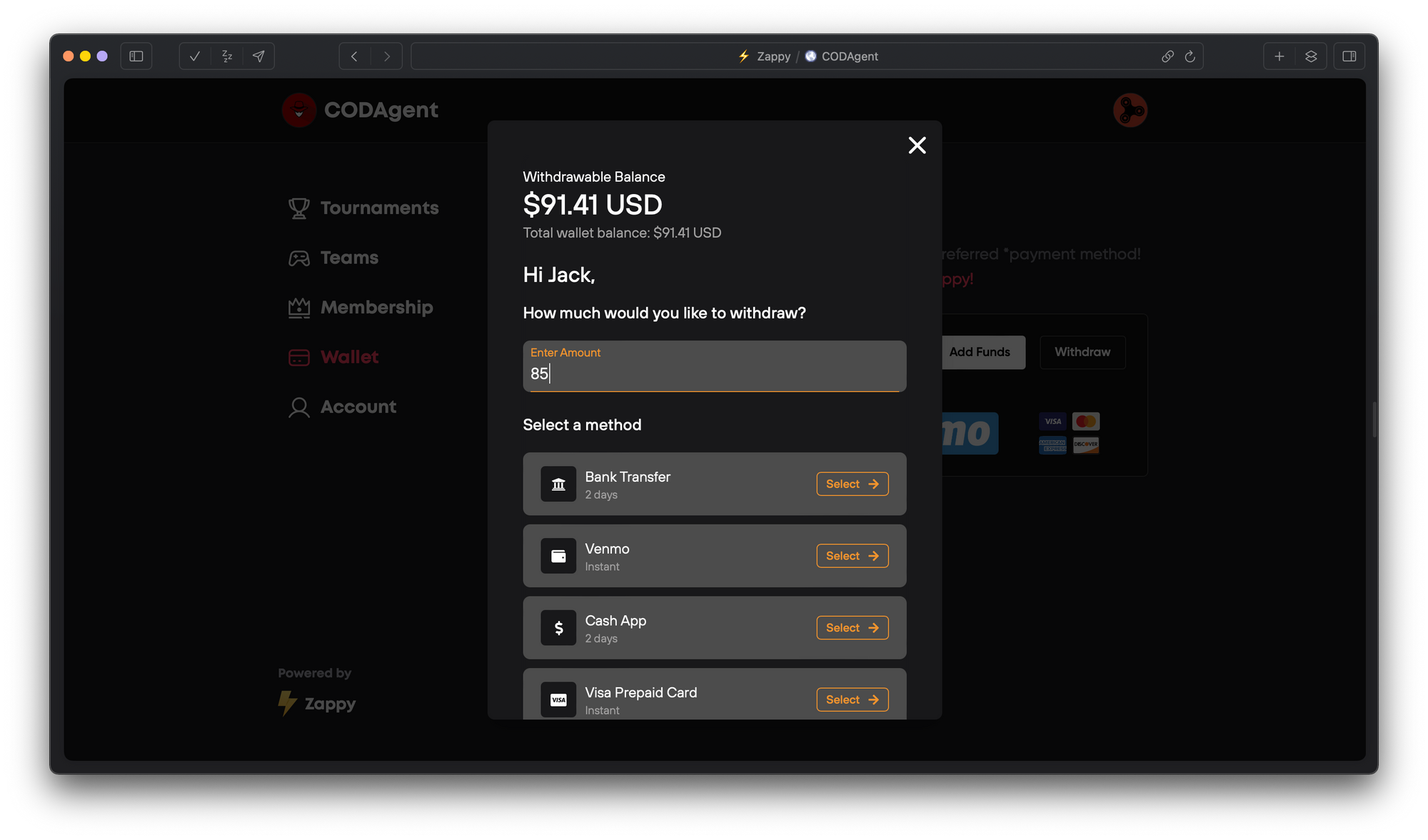 Before Dots, each tournament host would manually Venmo, PayPal or Cash App the prize money to the captain of the winning team depending on which apps the organizer and player had. This system required extensive manual effort, and was untraceable as it was solely handled by tournament organizers. Dots automated the entire process, allowing Zappy to add the prize money to the winner's wallets via API call.  The winner then chose to either withdraw the money via ACH, PayPal, Venmo and Cash App or to use the funds towards their next tournament entry fee.
Different rails of payouts are what brings our Dots experience from awesome to extraordinary. In esports, people want to get paid instantly. Our customers (who were managing tournaments manually) use Paypal to send instant payouts. Getting paid in Paypal and other non-bank-transfers delivers a better user experience for our end users.
From Customer to Engineer
Jack was so impressed with Dots after using it with Zappy, that he eventually decided to join Dots full time. Jack realized while building Zappy how vital it is to offer platforms an easy way to move money around. He loved Dots's mission and the chemistry he had with the Dots team, so he decided to come onboard. We're thrilled to see what Jack can do for Dots and how Dots can help grow the future of Zappy!